As Samsung has also filed a patent in March for a phone with a "rollable" screen and much likely to launch a foldable smartphone next year, in 2017. With that said, Samsung's long-rumored foldable hardware could be arriving in early 2017, as is also looking for the next big thing now, if this report is to be accurate.
Today's report actually targeting that highly-anticipated smartphone with foldable screen and according to a report surfaced from ETNews, Samsung will be going to launch new device taht looks similar to a regaulr 5-inch gadget, but slightly smaller tahn the new 2016 flagship, Galaxy S7.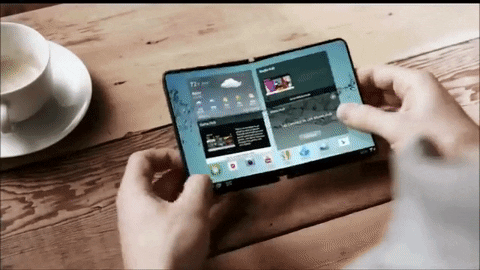 Once unfolded, the Samsung's foldable device screen will expand to seven inches, as of what a small tablet screen sports. For now, the foldable smartphone from Samsung essentially means the device's screen can also be bent in half by using the OLED display. Crazy! How exactly the foldable technology is going to work on Samsung's upcoming smartphone is unclear at the moment.
A flexible phone has been slated for imminent launch for the last couple of years, so it's important to take a note of this latest rumor with a pinch of salt. Samsung has had first mentioned ist possibility under Project Valley, following which there were a few patents surfaced hsowcasing the dual displays handset will apparently be able to open and close in different configuration with the use of hinges, which can expand by being pulled up by the user like a window blind.
Concerned that the limits of what can be done with a palm-sized rectangular phone are being reached, but tech company's are far looking forward to the Samsung's next big thing. Bringing out a foldable smartphone would radically shake things up and put Samsung at the top of the pack, leading a number of technology analysts to believe it could release the device in the next year.\
However, Samsung has not given any official confirmation on a foldable smartphone upcoming release or rumors already went online. So we have to wait for more leaks to see if this one holds any water hands-on.
Update x1: The report also adds a prototype of foldable Samsung smartphone finished with development and hoping to mass-produce the device starting from second-half of this running year, 2016.
(Visited 854 times, 1 visits today)