Rumor has it that Samsung during the next calendar year will be looking to take the smartphone world by storm with a slew of releases. Indeed, the South Korean Electronics generally takes advantage on all areas of the Android market with a number of new devices available at any given time by date, now that, it seems like the company is planning on releasing five flagship smartphones next year, one of which potentially be the top-end and highly-anticipated foldable Samsung smartphone that heard about in the past.
Codenamed "Project Valley", which Samsung has been speculated to be working on that particular foldable device under the hood. When – an if for that matter – it definitely lands in the marketplace for consumers to purchase, said that it will be known as the Samsung Galaxy X.

As its being a flagship device, the rumored Galaxy X will ship with a fairly formidable technical specifications that should offer a highly performant experience to owners, and at the same time, the main focus of the hardware will be the foldable display with a 4K resolution.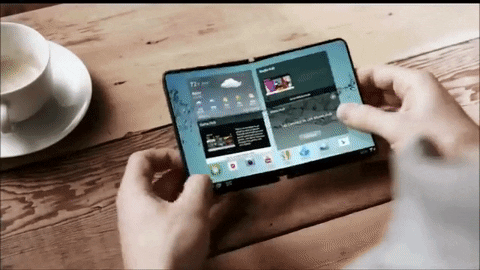 In addition to 2017 Galaxy X, Samsung should have a pretty strong smartphone lineup next year, but not one that brings surprises. There will be Galaxy S8 and S8 Edge releases as well, the two of Samsung's main product launches in the following year. Alongside those two, the seventh-generation Galaxy Note and accompanying Galaxy Note Edge will also be made available into the market toward the this quarter of the year. All four of those speculated devices will allegedly feature gorgeous 2.5K displays, leaving the Galaxy X to stand in a class of its own; at least where the display tech is concerned.

Think that the smartphone market is searching for a company to introduce some truly innovative tech into a device, while Apple planning to use Samsung's OLED display into its 2017 iPhone, rather going to replace it with the iPhone 7 or iPhone 7 Plus launch this year. Rumors about Samsung's internal working on Project Valley have been popping up for quite some time, but it looks like as though the technology and engineering processes could finally be in place to release a commercial smartphone with a 4K foldable display. Predicted that this display of the Galaxy X will ship with a "diamond PenTile sub pixel arrangement," and the rest of the device details remains largely unknown.
(Source: Weibo)
You may also like to check out:
(Visited 1,113 times, 1 visits today)